A Special Message During Youth Homelessness Awareness Month
Publish Date: November 18, 2022
Dear Friend, 
I hope this message finds you well as we move into the colder months. This time of year always adds an extra sense of urgency to our work with our community's most vulnerable youth and young adults, particularly those experiencing homelessness and housing instability.  
It's also National Homeless Youth Awareness Month and National Runaway Prevention Month – a time to acknowledge those children and young adults facing homelessness and its associated traumas. As many as 15,000 young people in our community experience an episode of homelessness annually.  
Homelessness is rarely a one-time, isolated incident. For most of the young adults under age 25 we're currently providing housing to, their first experience with homelessness happened when they were children. And because homelessness is deeply traumatic, these early experiences often lead to complex needs, which make finding stability as a young adult much more difficult.  
Research shows childhood homelessness experiences have lifelong effects, including high rates of mental illness, suicide attempts and substance abuse. And the likelihood to be pregnant/parenting and to continue to experience homelessness far into adulthood. 
Our minds are always on the lifecycle of homelessness. In fact, about half of the young adults currently in our housing program have children of their own. We know that the best opportunity to break the cycle of homelessness is with young people. When we intervene and provide stable housing and support, we can end that lifelong cycle of homelessness. 
At Pathfinders, we continue to increase our capacity to provide more resources to the young adults and their dependent children we house – including helping them with the hard work of addressing trauma, enhancing their mental well-being and gaining stability.  
In fact, I'm honored to share that Pathfinders was recently awarded several significant, public and private philanthropic grants that will allow us to expand our housing work, move upstream to focus on homelessness prevention and enhance our overall capacity to address those complex factors that lead to homelessness in our community.  
Housing  
We will bolster our team of mental health professionals with the addition of a designated therapist for the young adults in our housing program

. This will have a profound impact on their lives as they work to address years of trauma and gain stability.

 

Teaching young people how to be good neighbors, to understand their renter's rights and to help them find a home that best meets their needs is another component of our innovative housing work at Pathfinders

. And, with this new funding, we will add more support for our clients and for our landlords, who are key partners in our work.  

 

We've achieved a zero percent eviction rate over the 11 years we've provided housing

. We believe it is critical to ensure that young adults don't begin their independence with a housing eviction on their record, making future renting incredibly difficult. 



We are also expanding our upstream homelessness prevention work by providing support to young people before they experience homelessness. In addition to those currently without housing, hundreds more young adults are on the verge of homelessness when they face a financial hardship like paying a winter energy bill or repairing their car.  
Homelessness Prevention Efforts 
New investments have provided us with a pool of flexible funds that will allow us to

provide emergency basic needs quickly, so young people won't lose their current housing by having to make the decision to either pay rent or buy groceries or turn on the heat

.

 

We'll also expand our team to provide

more

employment and anti-sexual violence support

. Sexual exploitation and unemployment are major drivers that often lead to or result from homelessness experiences.



We are honored and humbled to receive these awards and we're incredibly grateful for our public and private partners. At the same time, we have a lot of youth and young adults who are looking for our support. We've never struggled to find young people for our programs. Having enough resources to serve them all is always the biggest challenge. But we are working hard to anticipate needs, expand our programming and serve more young people. 
Your investments make our work possible. We are keenly aware that in addressing both housing and homelessness prevention work, Pathfinders will have a positive and profound impact not only on those young adults, but also on their children, their children's children, and for the future of our entire community.  
Yours in gratitude,  

Tim Baack
President & CEO
Want to learn more about Pathfinders' housing or homelessness prevention services? Contact Pathfinders' Development Team at Development@PathfindersMKE.org.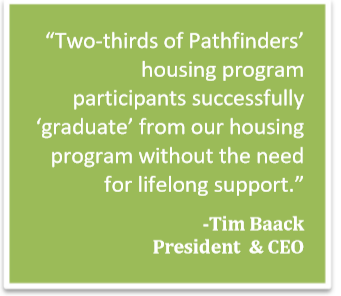 Get Involved
Provide safety, hope and healing to youth.

Get Informed
Learn about issues impacting youth.