We have good news!
Publish Date: September 21, 2023
Friends,
I'm thrilled to share that Milwaukee has been selected by the U.S. Department of Housing and Urban Development (HUD) to receive more than $3 million in funding through the Youth Homelessness Demonstration Program (YHDP) for the first time. YHDP supports communities in building and executing a cohesive strategy to prevent and end youth homelessness that centers young people with lived homelessness expertise at the decision-making table for how the financial resources are allocated in the community.
Milwaukee's YHDP application was a yearlong collaboration between Pathfinders leadership, the City of Milwaukee, Milwaukee's Continuum of Care and a Youth Action Board comprised of 15 Pathfinders youth and young adults with lived homelessness expertise. Throughout the process, these young leaders demonstrated their extraordinary commitment to the work, sharing their passionate energy, thoughtful ideas and precious time to ensure Milwaukee was best positioned for selection for this opportunity.
Pathfinders was thrilled to host a roundtable discussion between Pathfinders' leadership and Youth Action Board with HUD officials prior to the official announcement. HUD Principal Deputy Assistant Secretary Marion McFadden had heard great things about Pathfinders and came to learn more about our service delivery and youth engagement to share with others across the U.S.
"This is a victory for the community – shared by the young people contributing to the application, the city of Milwaukee and the other members of the Continuum of Care, and so many committed community partners," said Principal Deputy Assistant Secretary Marion McFadden. "This funding will support local initiatives to ensure safe, stable housing for youth in Milwaukee."
This investment represents a major milestone in the journey to bring youth and young adult homelessness front and center. Young people are the future of our community, yet, unhoused youth are far too often overlooked by government, funders and service providers. At Pathfinders, we see firsthand the devastating effects homelessness has on the youth of our community.
An estimated 15,000 young people experience homelessness each year in Milwaukee. Housing instability leaves youth vulnerable to sex trafficking, exploitation and violence. Early experiences with homelessness are powerfully correlated with lifelong instability and cycles of generational trauma. And we know that Black, Indigenous and People of Color (BIPOC) and LGBTQ+ youth experience homelessness and its associated risks at disproportionate rates.
YHDP advances what we at Pathfinders have known and valued for decades: No effective solution to youth homelessness can happen without young people at table as leaders and experts. As Youth Action Board Member Dream said, "I believe the Youth Action Board has a better chance of ending youth homelessness than others because it's youth that have been in that position, helping other youth get out of that position."
And Youth Action Board Secretary Beth put it beautifully when she said, "all youth need resources, and to feel heard and cared about. I want to help and give back to other youth like a lot of the resources in Milwaukee have helped me."
I couldn't be more proud of the extraordinary work and commitment of our Youth Action Board, in addition to Pathfinders' staff who work every day to lift up the voice of our youth and young adults. The YHDP grant is an example of our mission actualized: Empowering Youth – Changing Lives.
I look forward to sharing more updates of exactly how this funding will resource the needs of our young people as planning progresses.
Yours in partnership,
Tim Baack
President & CEO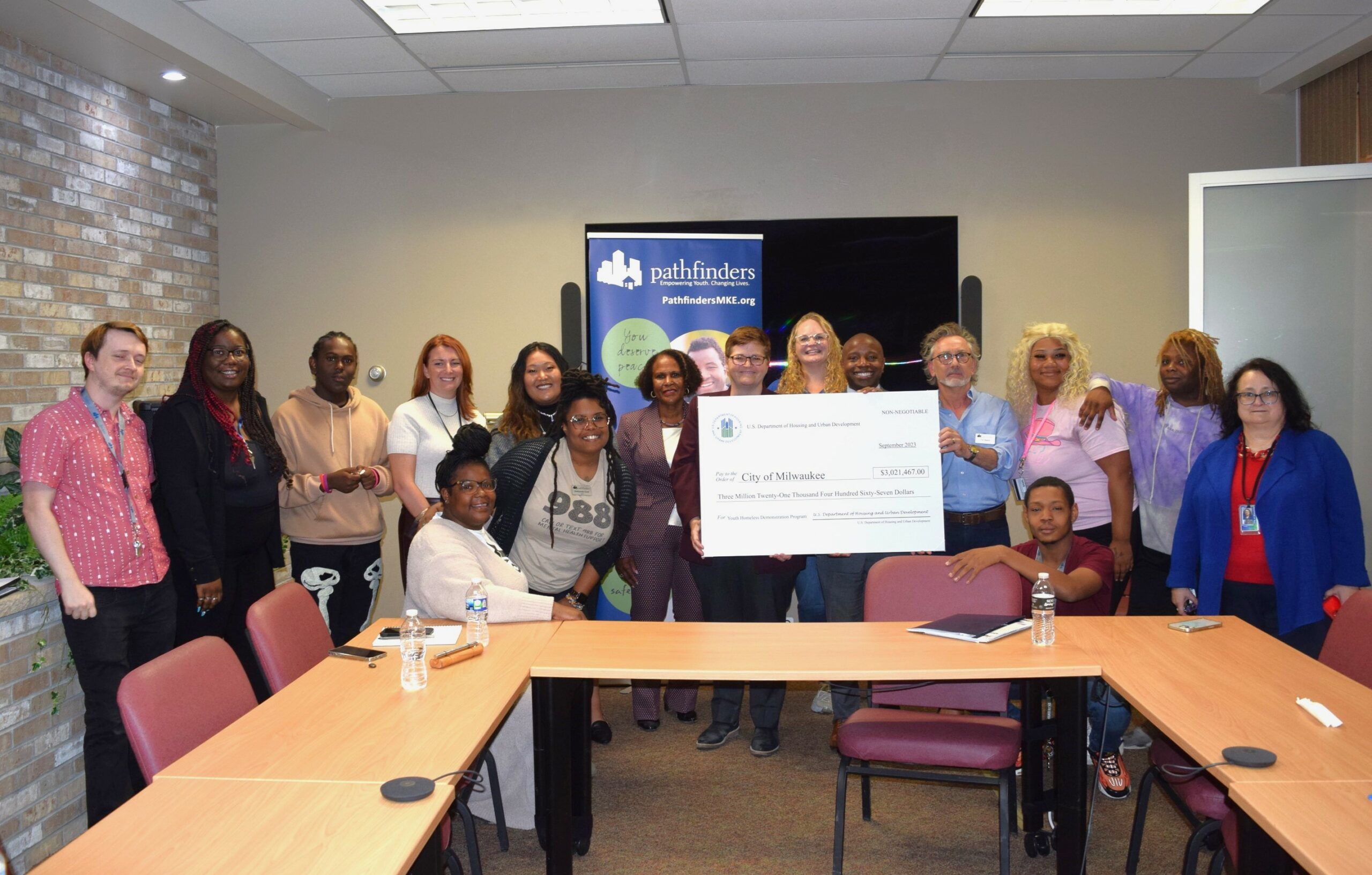 Get Involved
Provide safety, hope and healing to youth.

Get Informed
Learn about issues impacting youth.